James R. Schmidt, Jr., BSME, Sr., Collision Reconstruction Engineer ::::
As you probably know by now, DJS can analyze dash cam and still-camera surveillance videos to quantify vehicle speed (and other parameters, if necessary). Of course, the ability to evaluate is dependent on the quality of the video, as well as the presence of fixed objects or other points of reference visible in the video for use in determining distance travelled over time (i.e. speed is distance divided by time). DJS has performed this type of analysis countless times. Quite possibly, DJS has worked with you on a case in which such an analysis was performed, or you may have read some of our other prior articles wherein this topic has been discussed at length.
With a video in hand (a dash cam video in this instance):
… incremental positions of the vehicle are plotted:
Incremental speeds are calculated from the distance traveled between adjacent points and the timestamp corresponding to each point. A speed versus time profile is developed: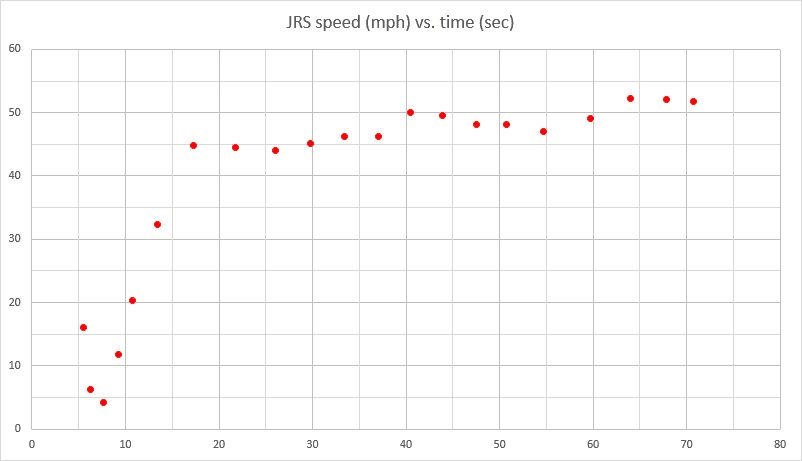 In this example, the video also displayed GPS speed, which is updated every one second on the display. The GPS speed vs. time profile is plotted:
And, for good measure, the two plots are laid on top of one another for a visual comparison, and voila!
Mic drop. The results are outstanding! While there is a bit of a lag in the GPS speed display, to clean up the comparison, an adjustment for that lag can be made, and the alignment between the two speed vs. time profiles would further coincide.
Oftentimes, a GPS speed display for comparison is not available, but that's where DJS' experience with this type of analysis shines. Distances, as short as about a foot, up to several miles, can be plotted with length of time ranging from just a fraction of a second up to several minutes. Let us put our expert analysis skills to work for you! Good, bad, or indifferent, you will know where you stand.
James R. Schmidt, Jr., BSME, is a Senior Collision Reconstruction Engineer with DJS Associates and can be reached via email at experts@forensicDJS.com or via phone at 215-659-2010.